Dharma: (according to Wikipedia)
In Hinduism, dharma signifies behaviours that are considered to be in accord with rta, the order that makes life and universe possible, and includes duties, rights, laws, conduct, virtues and ''right way of living''. In Buddhism dharma means "cosmic law and order", but is also applied to the teachings of the Buddha. In Buddhist philosophy, dhamma/dharma is also the term for "phenomena". Dharma in Jainism refers to the teachings of tirthankara (Jina) and the body of doctrine pertaining to the purification and moral transformation of human beings. For Sikhs, the word dharm means the "path of righteousness".​​
---
Once you have cleared out negative, blocking emotions and karmas, you are ready to Activate the Ascension process fully and start living your Dharma 100%.
If this seems foreign to you, or you are unsure how to proceed and "jump timelines" from karmic living to dharmic living - this is where I come in.
---

Activations May Include

:

Calling forth latent gifts to manifest and activate
Enhancing Life-affirming qualities within
DNA activation of helixes 3-13
Activation of previously dormant areas of the brain
Commands to the body systems to upgrade and become more efficient

---

Ascension Refers to

:

Inhabiting a New Earth vibration/experience
An increase in the capacity and vibration of the body
The evolution of the human species
Possible interaction with "other" beings besides humans
Awareness of various dimensions of reality
The Experience of life "working differently" than before
Some symptoms of ascension may include:
Random cravings (sugar, chocolate) or unfamiliar eating patterns; bloating/strange nausea
Odd sleep patterns - need for more or extra napping
Pressure, increased sensation in solar plexus area or between solar plexus & heart or head/crown
Headaches ~pressure/swirling.drilling feeling in skull/third eye (feel relieved by meditation on integration, release & acceptance of upgrades)
Hearing strange or abnormal sounds (buzzing/metallic; humming; otherworldly "sound of the spheres")
Heightened sensitivity & awareness of all things around you
Technology mishaps; short circuiting electricity; dropping calls a lot; extreme delay in messages; car breakdowns
Feeling like you are in a movie, or watching a screen when you look at the outside world
Body seems out of balance or uncoordinated/out of "the flow" feeling - like suddenly lost
Near instant manifestation of word or thought into this reality
(for more on this list see Isabella Greene's article "
25 Strange 'Symptoms People are Experiencing Worldwide
"
---
Tools that May Assist Upgrades & Ascension Processes ~
---
Creativity/Empowerment Code:

Utilizing the same basic method as the Release Work sessions, other tools can be tested as per their validity for your upgrade/ascension process including the importance of various techniques/practices, use of herbs/essential oils/flower essences, etc. Or the implementation and use of possible other modalities, body work, etc. Of course, intuition into your own needs is encouraged, help is available as needed. Sometimes the process can seem overwhelming.
(This session can be done by proxy on the phone, Skype or in FB chat - easily and takes aprox 30-60 min per session) $88 or $144 sessions
---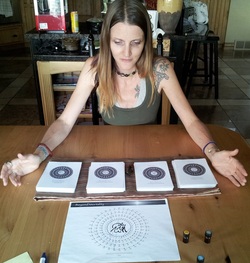 Readings & Empowerment Sessions:
Utilizing various decks to reveal potentialities unfolding before you
Along with personal support & action tasks for Personal Empowerment & Empowered Ascension
30-60 minute readings + Consultation $66/30min sess. $111/60min sess
For an appointment contact me
Current Decks in use
:
Angel TarotWisdom of the Oracle
Wisdom of the Hidden Realms Oracle
The Enchanted Map Oracleand the very unique Lemurian Manifestation deck: The Qi VestaPLUS - Various other Alchemical tools and Ceremonies may be called forth as part of the process for YOU.

​"It was profound that my reading was only 8 cards, but in those 6=8 cards I received total clarity, confirmation, and gained new insights. Stasia held such a space that led me to understand myself and hear the advice of my soul. I love that this is working on the subconscious to truly heal patterns that are nearly impossible to heal even if you are conscious of them. Thank you Stasia!"
---
---
Support for Ascension/Integration
This first audio is a
Yoga Nidra practice
- to be played while lying down in a relaxed position. It can be used in the day or before sleep. Each stage of the practice helps to bring you into deeper stages of relaxation,
accessing alpha brain waves
and supporting the clearing and fortifying of the subconscious mind. Listen with relaxed awareness and just simply let your consciousness float around the body in response to the instructions ~ 15 minutes of a Yoga Nidra Practice is equal to 1 hour of Deep Rejuvenating Sleep.
I hope you enjoy. More Yoga Nidra Downloads are available at
CD Baby
.
---
Integration is a free-flowing alchemical song composed by me with the intention of helping one to integrate new energies and embodying a clear field full of personal truth.
​This piece was not composed, but came from a heart focused on integration on all levels ~
Part of Emotional & Karmic Release is the dispersal of negative trapped emotions which are cleared through sweeping the governing meridian with a magnet. This is extremely effective for releasing energy bundles from the field, but often times, other meridians are upset in the process.
The TRIPLE WARMER meridian may be out of balance If you or your client have processing symptoms such as:
Increase in Anxiety
Inability to relax
Immune system response - cold/flu etc.
Fight or flight reactions - more than normal
The
Triple Warmer
is paired up with the
Spleen
in Chinese Medicine. Together they make up the team of the Father/Mother pair. The Triple Warmer is responsible for fight/flight responses and the Spleen takes care of processing Emotions. Sometimes when LOTS of emotions are released all at once - - the Spleen/Triple Warmer pair become imbalanced and the Triple Warmer acts up in order to "protect and defend" the body system. It thinks it was under attack, basically - and goes "on alert."
​
These simple VIDEO exercises - found on
CristinasEnergyCenter.com
can assist in balancing the Triple Warmer/Spleen Pair:
Triple Warmer Soother
Creating Happiness
Connecting Heaven and Earth
See her awesome
definitions of Energy Centers, Meridians, Triple Warmer/Spleen Pair, Chakras, Radiant Circuit Links and More.
EFT - EMOTIONAL FREEDOM TECHNIQUE - or Tapping is a great way to help process karmic release.
Here is a short tutorial video - plus more can be found on the EFT website:
www.emofree.com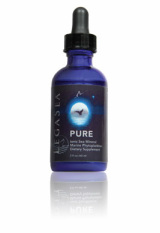 PURE - Marine Phytoplankton with ionic trace minerals
-
This incredible food can assist the body by offering the proper nutrients in a bio-available form which will assist one in processing and assimilating new energies, information and beliefs about the self and life. By having the proper nutrition available in the body, the organs, meridians and body tissues can exist in harmony without sapping vital lifeforce from each other. Marine phytoplankton also offers an available form of oxygen to the cells, giving one the literal sensation of taking a deep, inner breath to LIFE.
---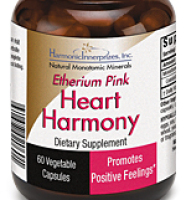 ETHERIUM PINK -
This is the monatomic element Etherium gold including 66 other monatomic elements that assist the heart in opening and transforming negative emotions into forgiveness and love.
It can assist in the transformation of the heart when emotions have been and are in the process of being released from the field around the heart.It acts as a mood lifter and facilitates "letting go." It can turn grief and sorrow into acceptance, or anger and jealousy into forgiveness. It gently soothes away the tension and reduces stress and frustration.
---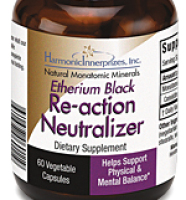 Etherium Black
From
Natural Monatomic Minerals
Etherium Black (Re-action Neutralizer) is classified as an non-herbal adaptogen.* An adaptogen is a substance that returns the body to its normal state (homeostasis) after an environmental disruption and improves the body's resistance to stress and occasional fatigue.*
This product is great to use during processing and helps prevent further disruption to the body field and future attachments of negative energies. Also available in a spray form.
Etherium Black is capable of detecting electromagnetic imbalances within any organism and neutralizing the waves and particles causing any disturbance.* It is equally effective with thoughts, emotions, and physical imbalances.*
Etherium Black is quite effective in supporting general detoxification.
---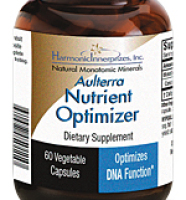 Aulterra Nutrient Optimizer - DNA Activator
​
In laboratory studies, Aulterra (Nutrient Optimizer) has been shown to promote healthy DNA and improve the bioavailability of foods and other dietary supplements. Aulterra simply makes the body work better.
(From Harmonic Innerprizes website:)
Aulterra is formulated from two naturally occurring trace mineral deposits, kelp, and a proprietary succession process. It is a multifaceted, multidimensional product that promotes a higher octave of energy throughout the body, allowing for electromagnetic healing and enabling the body to achieve states of health that may have been elusive in the past.*
Dr. David R. Hamilton states in his research paper that, in his evaluation of numerous studies, Aulterra moves whatever it comes in contact with towards negative entropy. Aulterra moves matter/energy in the direction of greater unity and harmony. Dr. Hamilton further observes that the same quantum mechanics involved in any true wellness is identical to the radiant energy emitted from Aulterra.*
(Click here for further information on this research)
In his laboratory study "Conformational Changes in Human DNA Characterize the Radiated Energy from the Aulterra Formulation," Dr. Glen Rein Ph.D. states that the energy of Aulterra puts the double helix of the DNA in a quantum oscillation pattern. This oscillation pattern generates radiant energy within itself.* This then causes the production of radiant energy in every cell in the body to promote healthy DNA.
Healing states of consciousness are known to be associated with coherent oscillatory EEG patterns in the brain. This energy is transferred to the patient and we can observe the coherent oscillation pattern of DNA.
---
ORMUS Products: (consciousness elements which help you align with your soul purpose)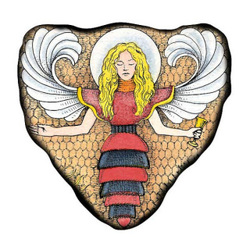 Merkaba Ambrosia Nectar
~ Created by a brilliantly attuned alchemist friend of mine, this substance will assist you, if you are moving quickly through layers of Karmic Release, to attune with your Soul-Path frequency and draw into your consciousness (more quickly) that which you need to manifest the reality of your choosing. This stuff is POTENT and NOT recommended if you are still struggling with lots of negative defeating thoughts/family patterns, as it acts as an amplifier of thought. Thought=Reality.
---
---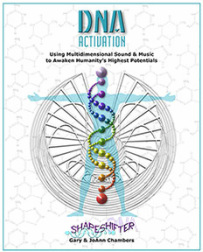 Visionary Music DNA Soundscapes
Visionary Music has some of the most incredible DNA activation support sound scapes I have encountered over the years. On their site they have some sample tracks. I highly recommend getting the book to go along with the DNA soundscapes. You need only work with one album at a time. But they are ALL fantastic!
---
---
As you are activating more energy and lightcodes in the body
it is a good idea to also connect to this 12D Shielding Technique:
---
---
---
Different types of Ascension and their Qualifiers~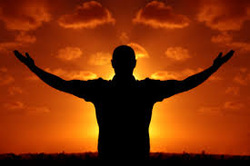 The Planet has reached a critical time of ascension. There are several ways to go about the transition:
1- Death and Resurrection
2- Basic Ascension into Light Body
3- Empowered Ascension or Conscious Evolution - Keep & Transform the physical body

If you are unaware, you will likely take the first route. If you are "spiritually focused," chances are, you will take the second. Only few will choose to take the third.

If you feel this is YOU - Read On.

The body has the capacity to become a "super-body" as you have the capacity to become the god/goddess being that you are in your true essence. However, not everyone will make the full body transformation/transition now. Many will simply cross over the dimensional shift that is occurring and leave the physical behind, wearing an up-graded version made of pure light.
Those choosing basic ascension will continue to find it important to eat fresh, live foods and pure water, exercise and meditate.
Those choosing Empowered Ascension have more specific work to do with their body vehicles in order to prepare them for the change and the consumption of fresh/live foods is NOT at the forefront of this change.
---
---
---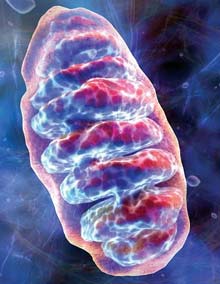 Here is the issue ~ One thing keeping your physical body HUMAN and able to DIE is the Mitochondria which converts food into fuel.
If you stop feeding your body or feed it poorly, eventually, the Mitochondria begin to panic, and die. They do this when you are fasting as well....trying to make up for the lost nutrients and their JOB, they scramble to "save" the body or breakdown, releasing toxins into the system. This is why in Basic Ascension, the physical is left behind in favor of the light body. But the light body has limitations, as it is no longer physical. Those who choose Empowered Ascension feel that they have a job of sorts to do in their bodies, they can ascend with the planet, but need the capabilities of their physical body to continue to do the work they are doing on planet Earth, including assisting those stuck in the change, among various tasks.
In Empowered Ascension
, the body must be reprogrammed and upgraded so the Mitochondria no longer work in the same manner. New cells must be trained. There are various ways each individual choosing this path might go about this. These are a few ways -
1-
Chakra Upgrade
~ One by one, or set by set, the 12 major chakras, including minor chakras (hands, feet, etc) will need to be replaced with upgraded versions who can then tell the cells of the body to receive energy directly from Source rather than food. The old cells will be gradually retrained by example or phased out. As the chakras bring in light, they are also bringing in information and work in accordance with Intention.
In order for this to work it will be necessary for previous (or current) chakras to be functioning at 100% and to then allow them to be switched out by your higher self at command. It would be important for this to be done in stages so as to not shock the entire body system and to check after each installation that it was received by the body well.
2- D
NA Upgrade
~ Specific DNA programs could be identified and changed. This could be approached in a complex or simple manner. There are various tools available today for assisting in DNA upgrades such as the book "DNA Demystified" by Kishori Aird and others. However, it is not necessary that the process be so complex. It is up to each individual how this is to be approached, but it is suggested that the method which does not focus on reprogramming, necessarily, but on making sure old programs are no longer running and then commanding for the upgrades to take place, one helix at a time (up to 13) be implemented.
3-
Visualization of Mitochondria Relocation
~ Visualize and telepathically speak to your Mitochondria and tell them what you are up to. Ask them to assign a "leader" to whom you speak and let them know they will need to be finding a new host to do their duty within, though not all at once. They will still be needed during the process of transformation to kill off old cells as the body is being retrained to enter immortality and absorb energy from Source. It may be necessary to do this step along with one of the others, to cover all the basis. You might also choose to communicate with the Mitochondria about converting themselves into free-energy utilizers and processors instead of their current station as food to fuel workers. Again, this is a personal process, each person will decide for themselves which feels right.
You may choose or design an entirely different method than those spelled out above. These are simply examples of what is possible and how it might look. The point being, the Mitochondria need to phase out changing food into fuel and phase in or be replaced by a system that utilizes Source energy for fuel.
If you are ALREADY on this path, you may notice any of the following:
extreme highs and lows
random eating and sleeping patterns
lots of energy followed by "near crisis" experiences
uncanny increase in synchronicities
an acute awareness that you are different
WARNING - once you start the process of conversion/ascension - there really isn't any going back. Stay vigilant, attentive and communicative with your body and any guidance system
Empowered Ascension is an individual process, though it can be supported by others moving through it. If you have questions, reach out. Body testing techniques as used in the Emotion Code or other Body Talk type of therapies can be useful in determining which method of ascension and Mitochondria rerouting is right for you - though it is advised to trust your intuition and inner senses.
If you made it to the bottom of this page, you ARE ready for the DNA "switch over" program to start accessing Source energy as your main energy supply (as is meant to be). Contact me for an appointment to receive the activation/switch over. This process only takes about 15 minutes on the phone, but will take you roughly a week to integrate it as your new reality.
---
---